Reservations
Need a table ready?
Call us now and let us help you save time. Book your reservation now. We'll make sure your table is ready!
254-694-8434
or
Visit Us
Dine in!
Here at Tres Hermanos Mexican Restaurant, Mi Casa es Su Casa!
Come on in, we'd love to have you! Come see us and enjoy the best customer and wait service.
Contact Us
Call it in!
Busy? In a rush? or Just want to be home?
Call us! We'll have your order ready for pick up!
Let us Cater Your Next Event!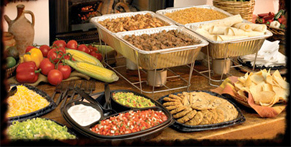 One of our great satisfactions is sharing with our community our many mexican food Menu!
Turn your next event or celebration into an authentic Mexican Fiesta with catering from our Kitchen at Tres Hermanos Mexican Restaurant to yours! From fajitas and tortillas to salsas and guacamole, to any Mexican or Tex-Mex dishes, nobody does Mexican like The Tres Hermanos! We have traditional fares to fit your budget. Contact us now.
Once you enter our place at Tres Hermanos Mexican Restaurant your craving becomes our command. We believe in offering only the best, most freshest, tasteful flavors of our beloved Mexico, where the people demand a quality meal and we know how to serve one.